Welcome to Quincy's Potomac Bar and Grille, the ultimate destination for an unforgettable American dining experience! Nestled in the heart of the vibrant Potomac neighborhood, our establishment is a haven for sports fans, food enthusiasts, and trivia aficionados alike.
Step into our warm and inviting atmosphere, where the tantalizing aromas of sizzling burgers, perfectly baked pizzas, succulent ribs, and mouthwatering wings greet you at the door.
At Quincy's, we believe in more than just great food. Our 40 TVs guarantee that your favorite team will always be available to watch with your friends. We show NFL, NBA, all college sports, MLB, NHL, European soccer and of course all the big fights from UFC and Boxing. We have 20 beers on tap and plenty of bottles, so you can enjoy a cold one with your friends while watching the game of your choice.
At the same time, get ready to unleash your inner superstar on our lively karaoke nights, where you can belt out your favorite tunes and dazzle the crowd. Join us for a thrilling game of bingo, testing your luck while enjoying a cold beverage with friends and family, or for trivia nights where your knowledge is put to the test and victory brings both bragging rights and amazing prizes.
Finally, we have a unique "Q" twist to classic cocktails, using a variety of liquors crafted by our experienced bartenders for all seasonal libations.
Happy hour is from 2pm to 7pm Monday through Friday.
Quincy's Potomac Bar and Grille is more than just a restaurant – it's a place where friends and family come together to indulge in delicious food, engage in friendly competition, and create lasting memories. Join us today and experience the vibrant spirit of American hospitality in the heart of Potomac.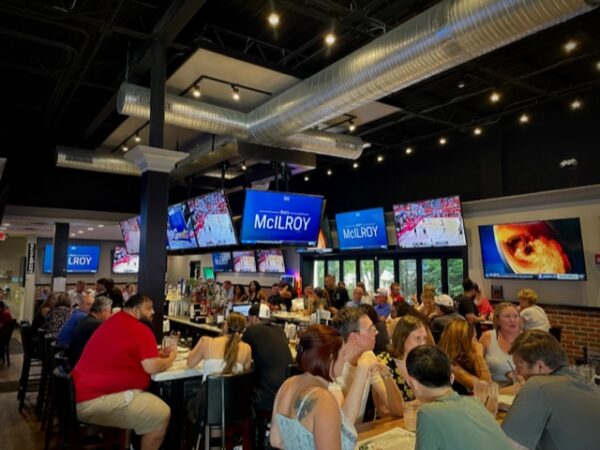 The BEST SPORTS BAR in POTOMAC, MD